Just got back from England and thought I'd take a few minutes to talk about my latest adventures.
My first stop was the Battle of Bosworth reenactment to promote my book,
This Time
. I met up with two Ricardian friends who formed a partnership called White Boar and to my joy and gratitude have agreed to distribute my book in the UK. The Heritage Center set me up with a small table and although I had some stiff competition from Philippa Gregory who was there signing her latest book, I did manage to sell 14 signed copies of mine. But the best news is the Heritage Center shop bought 10 copies from White Boar for sale at their shop. I signed those copies as well. Then, the cherry on top of the icing on the cake was the Richard III Society's tent was next to us, and they gave White Boar a spot at their AGM (annual meeting) where more of my books will be available. And Phil Stone, the society's chairman bought a copy.
It's a good thing I got to see the reenactment in 2006, because I was pretty much tied to my table the whole time. Except for bio breaks, this was my view of the reenactment.
The second reason for my trip was to do some research for the third book,
Strange Times
(still a work in progress). To do this, I needed to rent a car because a few of the places I needed to see are not near public transportation or sufficiently out of the way so that I'd eat up my time just getting to a place. My mantra became "keep left, left turn on side, right turn cross over." I kept repeating it over and over and didn't have any problems adjusting.
Since the novel begins at the end of the Battle of Stoke with Henry VII's troops roundly defeating the Yorkist rebels, I had to see and walk over some of the ground where the battle took place. Unfortunately, much of the land is privately owned and being farmed.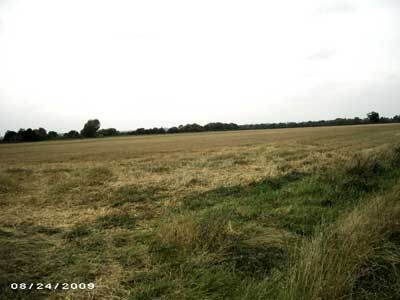 Part of the battlefield abuts the River Trent. According to what I've read, the far bank is high, which you can see here, but now the bank has a retaining wall, which undoubtedly wasn't there in 1487.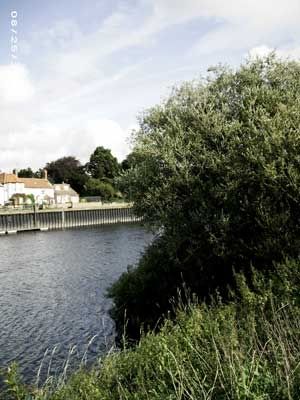 Next research stop was Witney--noted for wool and woolen blanket production--and Minster Lovel Hall, about three miles upstream from Witney on Windrush River.
Buttercross Market Square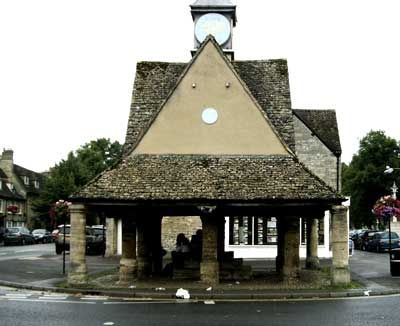 Windrush between Witney and the Cogges, a medieval farm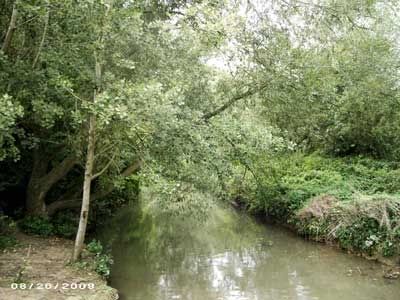 Minster Lovel Hall from the Windrush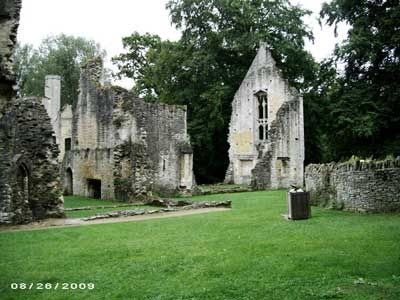 Windrush at the edge of Minster Lovel Hall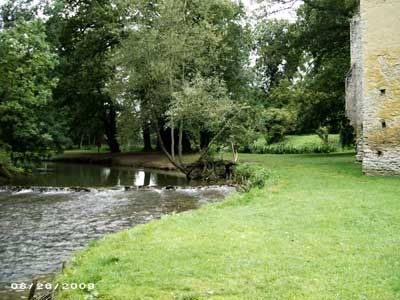 My research for the third book done, I drove to Reading to see my friends from way back and returned the car. I still needed to do a bit of research for an unrelated book, so I split my time between visiting with my friends and taking the train into London. Part of this research brought me back to the tower, but now to see the Royal Chapel of St. Peter ad Vincula where certain headless royalty were buried.
Tower of London from the underground stop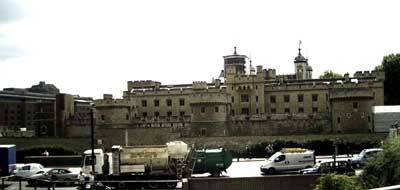 St. Peter ad Vincula (grassy foreground is where several people lost their heads, including William Hastings.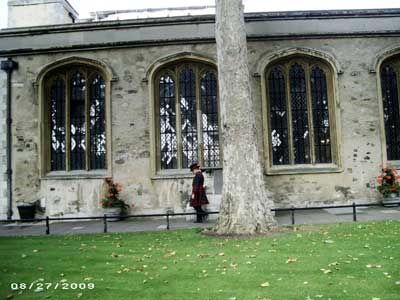 On my last day, I met with Annette Carson and we traded books. She also gave me two signed copies for the US AGM's sales table. Her book,
Richard III, the Maligned King
is well worth reading. I'm about half way through it and I'm singularly impressed with the quality of research and writing. I plan on reviewing this and Peter Hancock's book shortly.